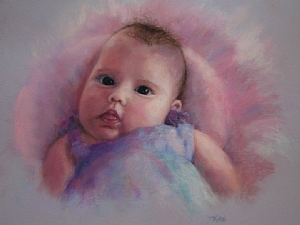 Portraits of People
Babies (head only)
(11x14) $300
Head and shoulders
(16 x 20) $500

Head and hands
(18 x 24) $700

Full figure
(most sizes) $900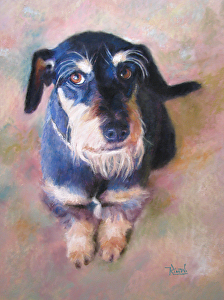 Portraits of Pets (Dogs, Cats and other friends)

Head Only
(11x14) $250
Full body
(11 x 14) $375 (small animal size)
(16 x 20) $500
(18 x 24) $625
*Prices as of January 2014
Other sizes are available upon request.
Additional subjects and specific backgrounds are at an extra cost estimated on first visit.
Prices do not include framing, taxes, or professional packing and shipping costs.

A 1/2 non-refundable deposit secures your space in my portrait schedule. Turnaround times given are within 1 to 3 months depending on my schedule and complexity of the commission. Portraits for Christmas are best placed about six months in advance. Inquire about my current schedule at k-e@mindspring.com.

Photography

I prefer to take my own photos and meet the subject if possible, otherwise please send the best photos at the highest resolution possible (ideally 300 dpi) that you have of your pet or person. (See photo tips section of website)
I return your photos at your portrait's completion.
Any background information and adjectives describing the subject's personality helps me set up a composition and mood. (Pets too!)
Pastels and Paper

I use professional grade, pure pigment pastels on acid free Wallis, UArt or Art Spectrum Pastel papers.
I use only archival canvas and artist quality paints with my acrylic and oil paintings.

Framing
Portrait costs do not include frames. Pastels can be beautifully framed with or without mats. My clients receive a 10% discount at Frame Warehouse in Cary, NC, who do beautiful, professional custom work.
Artwork is for personal use only. I keep full reproduction copyright on all my work. No digital or printed reproductions intended for financial gain without my prior consent. Thank You!